Do's and Don'ts When Hiring An SEO Expert
Many companies have not grasped the significance of hiring the right SEO expert. In contrast with the other professions, it is not easy to find an SEO expert who brings in wealth, knowledge and profit. Many companies hire external human resource and hiring agents to find them SEO professionals.
Hiring an SEO expert is very different from hiring a carpenter, a secretary or a doctor A good search engine optimizer can increase your company's profit margin and sales.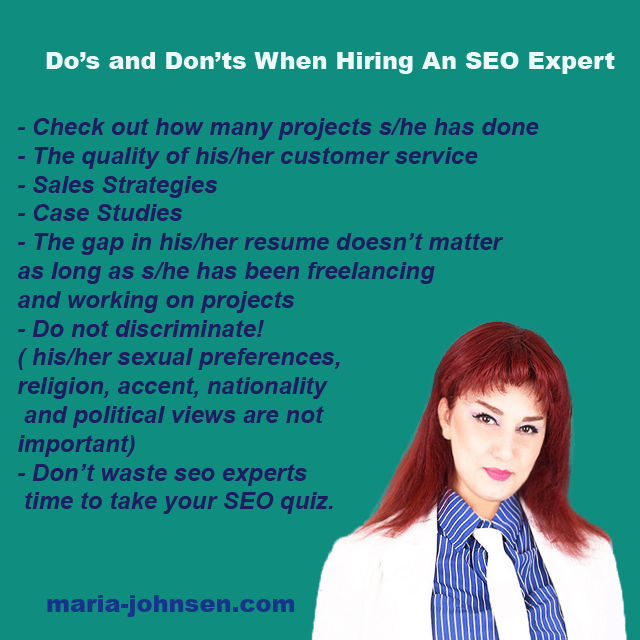 Here are dos and don'ts when hiring an SEO expert:
 Find out how many projects he or she has done before
 How many niches he or she has worked before
Explore his or her case studies.
What are their sales strategies?
Their programming, graphic design and web design skills
Ask how much they know about search engine programming if so what kind of programs
Many search engine marketing and media companies fail to hire the right SEO expert. They waste their money on employing a wrong seo worker. They keep publishing announcements on job portals in hopes of finding the right one.
– Don't ask about their previous employer. Asking questions like where you have worked before is a waste of time. A candidate won't tell you the truth about his or her previous employer anyway. Take out this outdated question from your list.
– Don't look for gaps in an SEO expert's resume. Many of them are small business owners and have gone through financial and economic crisis due to their countries' economic situation. It can be a huge gap after graduation in some SEO expert's resumes. 99% of them work independently with various projects, making money and improving their skills.
Social welfare's monthly payment is so little that never satisfies the expenses of a person in Europe and North America. Therefore judging an expert by the years of not being employed at an agency does not mean he or she was not active in the job market.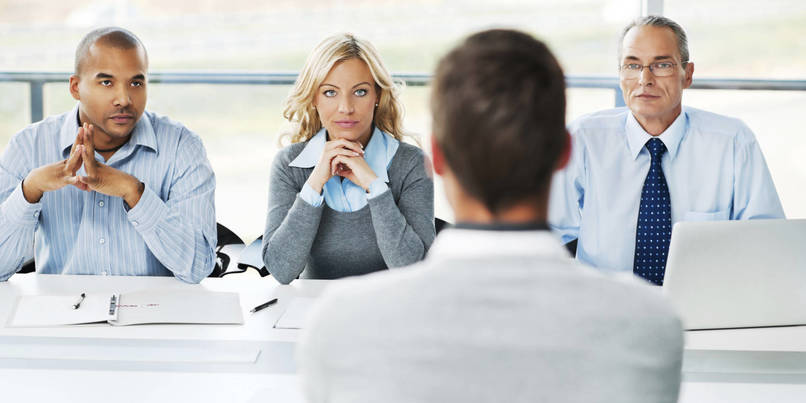 -Do not discriminate. Many companies in Europe and North America don't hire the right SEO expert because of their sexual preferences, religion, gender, accent, age and nationality. This way they fail to hire the right professionals for their companies. Some companies prefer men, while most seo experts are women who apply lucrative ways to increase profit and know technical aspects of a search engine and programming. They think only men are good at tech stuff.  It is just another myth.
Some other companies on the other hand prefer to hire candidates in their early 20s' with certain looks, height and weight. In Scandinavia especially in Norway, one can see many of them. The majority of these companies look for  blond, fair skin candidates in their early 20's.A person's expertise  is their  second priority. They think if they hire a 20 years old, they can teach him or her how to do SEO. Big mistake! SEO is not just building links and writing articles on people's blogs, it comes with technical, sales experience and working in various niches. It is about solving problems in digital world which requires experience and knowledge in digital marketing and search engine programming.
Ironically many companies 'in-house SEO employees are inexperienced workers who have education on bachelor level, but zero or little knowledge in SEO and search engine behavior. They spend their time outsourcing their SEO to independent contractors. How do i know it? Because many of these major player companies outsource their projects to me. And do you know what is funny? All these companies a few years ago denied my job application, now they are dependent on the results i get them in search engines. They pay well, way more than what they would have given me if they would have hired me at their organizations.
There are many challenges in search engine and online marketing industry. Employing an inexperienced candidate as a team leader is a bad investment. I am not saying not to hire amateurs, but making a newly educated SEO employee as your company's SEO department's team leader, because of his looks, is a bad investment.
You are not hiring a secretary or carpenter. You are investing in someone who brings in wealth, his or her technical expertise in digital marketing and profit to your company.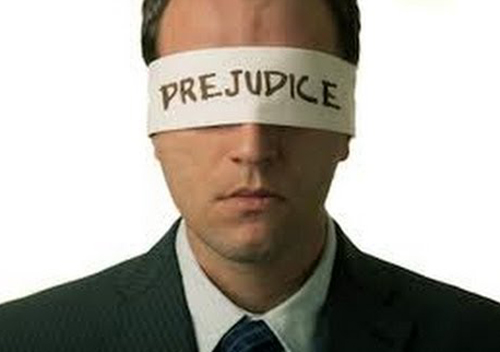 Many Scandinavian employers are xenophobic and do not hire expat SEO experts. Most of them outsource SEO to underdeveloped countries. In order to acquire work, they use telemarketing to get customers. These companies a few years later declare bankruptcy.
Misconception About Freelance SEO Experts
Here is a myth:"SEO freelancers are not team players". In our century 99.9% of seo freelancers work in team. You should not mistake SEO with graphic design or logo design job. Every process in SEO requires team work.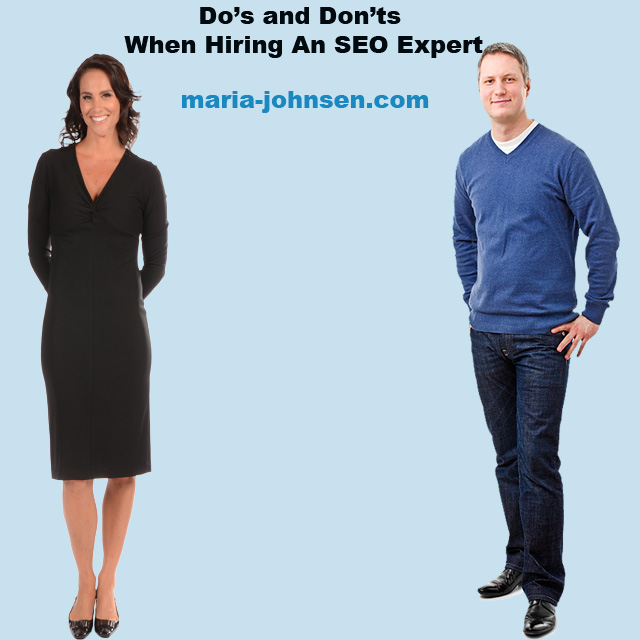 Here is another myth:"SEO freelancers are not skilled and lack of experience."
Freelance SEO experts have been working on various projects in different niches and gained more than enough skills and experience. At SEO agencies most of the employees do certain tasks while an SEO freelancer is a multitasking expert who knows web design, programming, seo link building, graphic design and sales.
An SEO freelancer is not a sycophant dealing with daily office politics which won't add any values to the work environment. They are result oriented and passionate about SEO. Giving the job to rank your website to a freelancer is safer and cost effective. Why? Because most of freelance SEO professionals don't have enough money to buy links, therefore their methods are whitehat while an SEO agency may use many unethical strategies for their clients. I am not saying all of them, but 90% of search engine marketing apply unethical tactics. For example those who are  Google Adwords SMB partner usually charge very little for SEO projects. Because their methods are unethical and cheap.( Read this article to find out more)
An SEO freelancer thinks of ways to achieve results even when he or she is about to sleep.
An SEO freelancer knows time management. Because they have to get results in a limited time and at the same time do the job right. A real SEO expert fears from bad reviews and do everything in their power to do the job right in order to make their customers happy.
Hiring the right SEO expert is a big investment. If you fail to hire the right person for the job, it is your company's loss. They always make money, but it is your company that misses an opportunity of having the right human source.
Think twice when you decide to tick off the real SEO expert from your list of candidates for some small reasons such as: having an accent, sexual preferences, gender, age and nationality. Because you might be losing more money by hiring a wrong person.